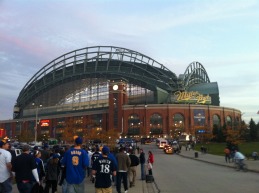 Last week, Don Walker reported on JSOnline that the average ticket price for Brewers tickets sold so far this year is $57.74.
That number astonishes me!
In all of my years of going to Brewers games, I have never paid that much for one ticket. Admittedly, I am deal seeker and most of the time sit in cheapest seats I can find.
In honor of Opening Day, I thought I would share five ways to get cheap Brewers tickets this season.
If you have any tips for finding cheap Brewers tickets, please leave a comment and let me know! 🙂
$1 Uecker Seats
The best deal at Miller Park is still the $1 Uecker Seats. These obstructed view seats are located behind home plate in the Terrace Reserved section. Uecker Seats are only available on game day and can't be purchased until the gates open (typically 90-minutes before game time).
There is high demand for Uecker Seats, and it is advisable to try to purchase them right when they go on sale.
Cheap Brewers Tickets on Stub Hub
My favorite place to find cheap Brewers tickets is StubHub. StubHub is a ticket marketplace where ticket holders offer their tickets for sale, many times at a deep discount. Purchases on StubHub are guaranteed, and tickets can be downloaded and printed right from your computer.
As the season goes on, it is not unusual to see ticket prices on StubHub for $1 or less!
$15 Fair Fridays
Every Friday, the Brewers offer $15 Fair Friday ticket packages. Each $15 package includes a Terrace Reserved seat plus a ticket to the 2013 Wisconsin State Fair ($10 value).
With the new demand-based ticket pricing for 2013, these ticket packages will oftentimes be cheaper than the regular ticket price. For example, the current demand-based price for Terrace Reserved seats for the April 19 game against the Cubs is $20. If you buy tickets under the $15 Fair Fridays promotion, you'll get the ticket for $15 plus a free State Fair ticket!
Half-Price Club Goodwill Seats
During every non-Gold or Marquee game, seats in Club Goodwill – Section 228 (Loge Bleachers) are available for half-price.
Club Goodwill tickets are only available at the left field ticket windows starting when the Miller Park gates open. There is a limit of four tickets per person.
Kids and Senior Citizen Discount Days
On weekday afternoons, the Brewers offer a 50% ticket discount for children ages 14 and younger and for seniors ages 60 and older. This promotion is available for all non-Marquee games, and includes all seats except for the $1 Uecker Seats or seats in Bernie's Terrace.
If you have children (or better yet, grandchildren!), these games can be a big money-saver. Check out the Brewers Kids and Senior Citizens Discount Days webpage for more information.
Your turn…what are your favorite ways to find cheap Brewers tickets?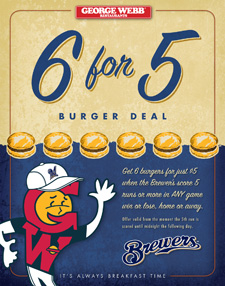 It's Opening Day!
Today not only marks the start of the Milwaukee Brewers 2013 baseball season, but also the start of another year of the 6 for $5 promotion at George Webb.
George Webb restaurants offer a great deal whenever the Brew Crew scores five or more runs in a game. From the moment the fifth run is scored, Webb's offers six burgers for $5 through midnight the next day.
Although this promotion is well-known throughout the Milwaukee area, there are some details that not everyone may be aware of:
The offer is valid for all Brewers games –

home and away

The Brewers

don't need to win the game

, only score at least five runs
The special is valid for customers who eat in, or who carry out
If you chose to eat in a George Webb restaurant, you can split the six burgers with other people at your table
Cheeseburgers are available for a nominal extra charge
Fried onions and pickles are available for free
Coupons are not necessary to take advantage of this deal
The 6 burgers for $5 promotion is available at all 31 Webb's locations throughout the state.
The Milwaukee Brewers have an interesting and potentially fun new promotion this season called Chance 2 Advance.
For $99 fans will receive Bernie's Terrace tickets to nine Tuesday night Brewers home games. Every time the Brewers win one of the Chance 2 Advance games, fans will be able to upgrade their seats for the next game to a better section (see below for the order of seat upgrades). There is a $2 charge to upgrade tickets.
If the Brewers don't win, fans can exchange their Bernie's Terrace ticket at no cost for a seat in the same section that they last advanced to.
In the very unlikely event that the Brewers win the first eight games in the plan, fans will watch the ninth game in the Field Diamond Box.
All of the Chance 2 Advance games are on Tuesday evenings with a start time of 7:10 p.m.:
April 30 vs. Pirates

May 7 vs. Rangers
May 21 vs. Dodgers
May 28 vs. Twins
June 4 vs. Athletics
July 9 vs. Reds
July 23 vs. Padres
August 20 vs. Cardinals
September 3 vs. Pirates
The order of seat upgrades is as follows:
Bernie's Terrace

Terrace Reserved
Terrace Box
Loge Outfield Box
Loge Infield Box
Club Outfield Box
Field Outfield Box
Field Infield Box
Field Diamond Box
For more information, visit the Brewers Chance 2 Advance Ticket Plan webpage.