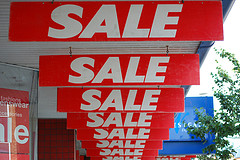 According to consumer advocate Clark Howard, shopping after Christmas and New Years is no longer the best time to scoop up deep discounted items.  Howard says that due to the popularity of giving  gift cards for Christmas presents, retailers don't discount their merchandise right after Christmas as much as they used to in the past.  Howard's magic date for deep discounts to appear at retailers is January 7th.
However, according to Savings.com there are some items that should be on sale now.  As you can see from this handy calendar, it's a good time to find sales on:
Books
Music
Movies
Home
Garden
Decor
What do you think about Howard's advice to wait for the big sales to occur after January? Based on your experience would you agree with his observation?
Clark Howard recently wrote that Republic Wireless is the "absolute cheapest unlimited smartphone plan in America".
Republic offers unlimited calling, texting, email, and web for $19 per month with no contract to sign. Republic states that their Hybrid Calling technology, which routes calls over Wi-Fi whenever it is available, reduces costs. When Wi-Fi isn't available, the Hybrid Calling technology switches to a normal cellular network.
Before getting too excited there are a few things to consider:
Republic Wireless is an invitation-only service, so you are essentially signing up to be a beta tester. Republic also requires that you have Wi-Fi access at home.
Only one smartphone model is supported by the Republic Wireless technology. To start service you pay $249 for an Android powered Motorola DEFY XT phone plus a $29 activation fee.
To learn more about their beta program, visit the Republic Wireless website.
What do you think? Would you cancel your current service provider and take a flier on this beta test with only one phone option?
Consumer advocate Clark Howard's latest book Living Large in Lean Times: 250+ Ways to Buy Smarter, Spend Smarter, and Save Money is currently available on Amazon.com for only $7.20.  With a list price of $18, you can get the book for 60% off, which is the lowest we've ever seen this book priced at.  Plus, the item is eligible for free Super Saver Shipping (if your total purchase is over $25 you can receive free shipping).  As regular listeners of Clark Howard know, he encourages you to pay as little as possible for his books, even if it means less money for him as the author.
Customer reviewers give Howard's book an average of 4.4 out of 5 stars.  With more than 250 invaluable tips, Clark shows you how to save money in the following areas:
Cars
Computers and Internet
Consumer Issues
Education and Jobs
Health and Health Care
Homes and Real Estate
Insurance
Personal Finance
Telephones and Television
Travel
Howard's book also contains six pages of websites that can help you be a better consumer.
For more information and to read some of the reviews, visit Amazon.com.