Milwaukee's popular annual Downtown Dining Week returns this week!
The week-long promotion runs June 6-13 and features lunch and dinner specials at 42 different downtown Milwaukee restaurants.
For $10 at lunch and $20 (or $30) at dinner, diners are treated to a three-course meal featuring an appetizer, main course, and dessert.
This year's list includes several new participants (indicated in bold below).  To view the menu for each of the Downtown Dining Week restaurants, click the links below:
(the asterisk denotes restaurants that charge $30 for dinner)
My Downtown Dining Week Lunch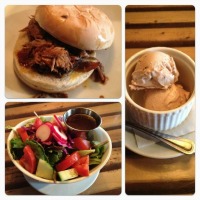 I try to visit a participating Downtown Dining Week restaurant every year.
Last year I had an incredible meal at Smoke Shack. My lunch included a salad, pulled pork sandwich, and the best (and only) whiskey ice cream I have ever had!
Have you been to Downtown Dining Week in the past?  What restaurants have you tried, and which ones to plan on trying this year? 
Leave a comment and let us know!
Bartolotta's NorthPoint Custard is celebrating their reopening for the summer by giving away free burgers on Saturday!
The first 200 customers at NorthPoint on Saturday, May 18 will receive a free hamburger. The Northpoint Custard stand is located on Lincoln Memorial Drive, south of Bradford Beach.
The NorthPoint free burger giveaway has become an annual tradition since they first opened in 2009. They officially open at 11 a.m. on Saturday, but you'll need to arrive early if you want a chance at scoring a free burger.
2013 marks the fifth year that the Bartolotta Restaurant Group has operated NorthPoint. For years the snack bar operated under Milwaukee County's control. In 2009, Joe Bartolotta's group took over control of the snack bar and turned it into an old-fashioned custard stand.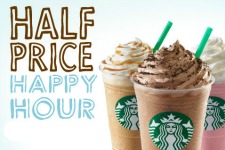 The Starbucks Frappuccino Half-Price Happy Hour is back!
Starting May 3, from 3 – 5 p.m. daily, enjoy a Frappuccino at Starbucks for half-price.
I will admit that I had never tried a Frappuccino until I bought one (okay, two) during the Half-Price Happy Hour last year. I am not usually one for fancy coffee drinks (a latte is about as fancy I get), but the Frappuccinos were really good. I plan on taking advantage of this promotion again this year. 😉
The Frappuccino Half-Price Happy Hour runs through May 12. Check out the Starbucks Frappuccino website for more details including all of the different Frappuccino varieties available.