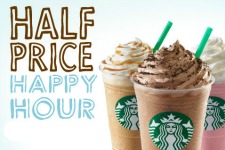 The Starbucks Frappuccino Half-Price Happy Hour is back!
Starting May 3, from 3 – 5 p.m. daily, enjoy a Frappuccino at Starbucks for half-price.
I will admit that I had never tried a Frappuccino until I bought one (okay, two) during the Half-Price Happy Hour last year. I am not usually one for fancy coffee drinks (a latte is about as fancy I get), but the Frappuccinos were really good. I plan on taking advantage of this promotion again this year.

The Frappuccino Half-Price Happy Hour runs through May 12. Check out the Starbucks Frappuccino website for more details including all of the different Frappuccino varieties available.

Attention Wisconsin teachers!
Applebee's restaurants throughout the state are honoring teachers on Teacher Appreciation Day with a free meal.
Active and retired teachers that visit one of 38 participating Applebee's restaurants in Wisconsin on Tuesday, May 7 will receive lunch or dinner absolutely free!
Free meal choices include:
Three-Cheese Chicken Penne
Bacon Cheeseburger
Chicken Tenders Platter
Fiesta Lime Chicken
Chicken Fajita Rollup
Oriental Salad
Beverage and tip are not included.
For more information including a list of all of the participating locations and the acceptable forms of identification, check out this document from the Wisconsin Hospitality Group.
The Milwaukee Journal Sentinel's DealWatch is offering a great deal at Red Rock Saloon on Water Street.
For $12 ($27 value), receive a selection of some of Red Rock's most popular menu items:
6 wings with your choice of sauce

2 sliders (pulled pork or brisket)
2 sides  (mac and cheese, onion rings, fries and more)
The best part? The deal also comes with two Shiner Bocks…all for $12!
This offer is available for purchase through midnight on May 5, but doesn't need to be redeemed until August 21.
For more details and to purchase this deal, visit the DealWatch Milwaukee website.
Who wants free lunch at Texas Roadhouse? (Silly question, I know.)
All patrons that visit Texas Roadhouse on Monday, April 22 between 11 a.m. and 2 p.m. will receive a free lunch!
The free lunch at Texas Roadhouse includes:
Pulled Pork Sandwich
Applesauce
French Fries
Soda
The Guardians of the Flame Lunch is a fundraiser for Special Olympics Wisconsin. Local law enforcement officers will be serving patrons and all tips and donations will go directly to Special Olympics.
All Texas Roadhouse locations in southeastern Wisconsin are participating – Waukesha, New Berlin, Kenosha, Racine, and West Bend. To read more details about the free lunch, click here.

Saturday, April 20 is "Worldwide Topperstix Day", and Toppers Pizza is offering half-priced Topperstix all day. In addition to the Original Topperstix, there are other varieties available - taco, pepperoni, bacon, cinnamon, and berry. 
The regular price of a single order of Original Topperstix is around $6, and a triple order is about $5 more (prices vary by location).
We won't speculate on why Toppers chose 4/20 as the day for Worldwide Topperstix Day…