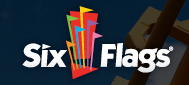 Six Flags is running another one of their very popular Twitter promotions where they are offering tickets for just $20.10 for only a few hours, today only.  The special price is available now, for a limited time for tickets purchased on SixFlags.com.   

Tickets are valid through October 11th, and you can purchase up to 10 at this discounted price.  Fright Fest starts this weekend, so take advantage of this great deal to get in for much less than half price! 
If you are unable to participate in this promotion, see our earlier post for information on how to get $25 off tickets to Fright Fest.
Earlier today Summerfest released a surprise promotion for free admission between 3pm and 8pm.
Fans on Facebook, followers on Twitter, friends on MySpace, and those who signed up for text alerts all received a message with instructions on how to get free admission.  For example, here's the tweet from Twitter:
Print this tweet or bring your phone – show at the Mid-Gate promo tent NOW – get ONE FREE TICKET to Summerfest good today from 3 – 8 pm!
Hey, it's not too late to become a fan, follower, friend, or to sign up for the text alerts…just follow the links below!
For text alerts, text SMILE to SFEST(73378) on your cell phone.

Today is Top Ten Tuesday.  Here's a list of ten local businesses that tweet on Twitter and are worth following to learn more about their business, get information on special deals, or just be entertained.
The list is in alphabetical order.  Just click on the @name to go to their Twitter page. There were way more than ten candidates, so it's likely we'll have another list soon.  Feel free to leave a comment if you have a good business that our readers should follow on Twitter and that we should consider for our next list!
@BlatzLiquor …………… Blatz Liquor website
@FrugalGossip …………..Frugal Gossip website
@George_Webb ………… George Webb website
@Ironhorsehotel ………. Iron Horse Hotel website
@MarcusHotels ……….. Marcus Hotels website
@MosIrishPub …………. Mo's Irish Pub website
@PabstTheater …………. Pabst Theater website
@RehorstVodkaGin …… Great Lakes Distillery website
@Streetzapizza …………. Streetza Pizza website
@Summerfest …………… Summerfest website