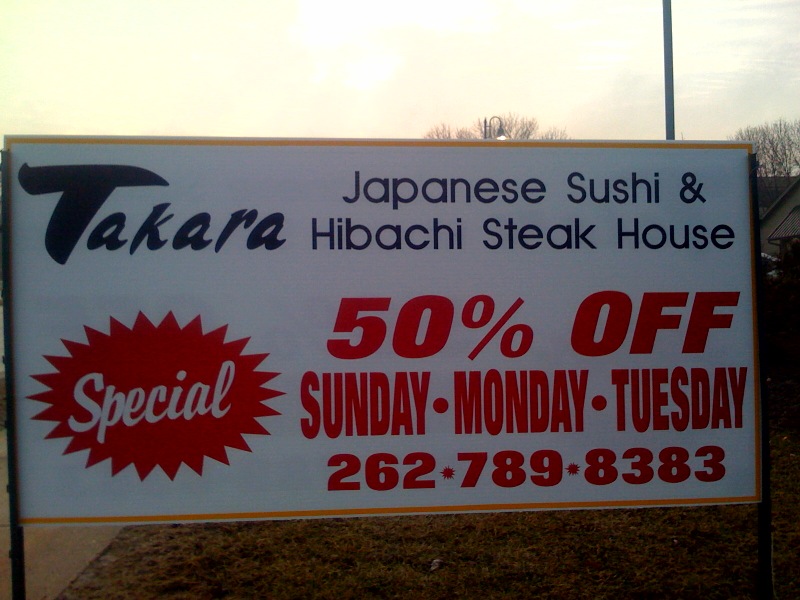 Thanks to reader Ellen F. who alerted us of this great deal.  She sent us this picture of an advertisement outside of Takara Restaurant in Elm Grove.  We contacted Takara and asked if the 50% off Sunday, Monday, and Tuesday deal was only for this coming week.  They stated the deal was indefinite.  Takara is located in the Autumn Grove Plaza at 12900 W. Bluemound Road.  Their phone number is 262-789-8383.
The Milwaukee-Brookfield/Wauwatosa edition of the Clipper Magazine has been released.  The Clipper Magazine appears to be published every other month and is sent to Milwaukee area consumers in the mail. There are a lot of good coupons in the February – March edition.  If you don't have the mailer, or if you've already used your coupon, you can obtain more coupons on their website.  Unfortunately, there are a few steps you have to go through to find the coupons you are looking for.  However, there are some good values here and it can definitely be worth your time.  Here are a few of the businesses that you can find online at CouponClipper.com:
Venice Club 

1905 N. Calhoun Road, Brookfield, Wi   262-786-8323

Coupons for $5 off purchase over $20 and $10 off purchase over $50. Expires 3/18/09.

Utopia Restuarant 7926 W. Capitol Drive, Milwaukee, Wi  414-461-9601

$2 off purchase over $15, $3 off over $20, $4 off over $25, and $5 off over $30.
Utopia also features a grand opening special: sandwich specials only $4.95, includes a cup of soup. Valid through February 28, 2009.

Outpost Natural Foods

Three locations: Bay View, Wauwatosa, and Milwaukee.
$2 off purchase over $20.  One coupon expires Feb 28th.  Other coupon good Mar 1 to Mar 31.

Glass Nickel Pizza

13175 West Bluemound Road, Brookfield, Wi  262-782-8000
9 different coupons are available, all of which expire on March 3, 2010.
Glass Nickel features FREE delivery!

Bluemound Gardens Restuarant

11811 West Bluemound Road, Wauwatosa, Wi  414-771-3000

Four 1/2 off coupons buy one entree, get second free – (1) breakfast, (2) lunch, (3) dinner, and (4) any meal.

Takara

Buy 2 hibachi dinners, get one free; 12% off entire check; buy one hibachi dinner, get one free, and $5 off purchase of $25 or more
Takara has been voted Madison's best sushi for 10 years in a row!

Fujiyama 

Contemporary Japanese Dining – two locations – 2916 S. 108th St in West Allis (414-755-1977) and 17395D W. Bluemound Road (262-796-1977)
$5 off any order of $30 or more, and 10% off any size check.

Sluggo's Sports Pub and Grill

12760 West Burleigh Road, Brookfield, Wi 262781-3663
Buy one fish fry, get one 50% off, 50% off sandwich or pizza, $5 off any purchase of $20 or more, and $5 off any 16″ pizza.  All coupons expire March 18, 2009.