If you are still looking for a holiday gift this season, you might want to consider exploring offers from businesses that give away a free gift when purchasing a gift card.  In fact, if you patronize that business regularly, it may be in your best interest to give yourself a gift and save money in the long run!  Here are a few gift card promotions in the Milwaukee area that caught our eye recently.  Aware of any other offers out there?  If so, please leave a comment.
Marcus Theatres – Free Movie Tickets with Gift Card Purchase
Purchase $25 or more in Marcus Theatres gift cards and receive a buy one, get one free movie ticket and a coupon for two free movie tickets to Marcus' Frosty Flicks series.  The Frosty Flicks series starts February 6, 2010.  This offer is available while supplies last, and the website does not indicate when the sale ends.
Bartolotta's – Earn $20 Reward with Purchase of $100 or More
Purchase a Bartolotta's gift card for $100 or more and receive a $20 coupon for use January 2, 2010 through March 31, 2010.  The gift cards are redeemable at any of the Bartolotta's restaurants:
Bacchus
Mr. B's
Lake Park Bistro
Ristorante Bartolotta
Pizzeria Piccola
This promotion is available through December 31st.
Fleming's Prime Steakhouse and Bar – Earn $20 Bonus Card with Purchase of $100
Receive a $20 bonus card with the purchase of every $100 in gift cards.    Flemings is located at 15665 Bluemound Road in Brookfield, on the corner of Moorland Road and Bluemound.  Flemings also is offering a $25 dining credit when making a reservation online (reservations for any date before December 30th) .  This promotion lasts until December 31st.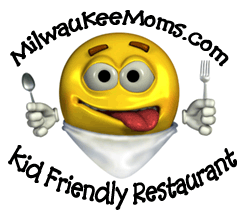 MilwaukeeMoms.com has compiled a list of kid friendly restaurants in the area that offer special deals for kids meals.  The full list is available here.  Some of the more notable deals are:
Applebee's – Kids meals for $0.99 on Wednesdays.
Crawdaddy's – Kids eat for free on Sundays.
Denny's – 2 free kids meals for every 1 adult meal purchased Tuesday – Saturday evenings.
IHOP – Kids eat free on Monday and Wednesday evenings.
Pizzeria Piccola – 2 free kids meals for every 1 adult meal purchased on Monday evenings.
The Chancery – Kids pay $0.01 per inch of height on Tuesdays.
All specials require 1 adult meal purchase per kid special, unless otherwise noted.