Fox 6 recently did a report on Milwaukee area dining deals for kids.  The piece mentions deals for kids meals at The Chancery, IHOP, Applebee's, Perkins, Denny's, and Crawdaddies.  Although the report talks about many of the restaurants that we mentioned in our post on this topic back in February, the story is still worth watching.  As we wrote about then, MilwaukeeMoms.com has a list of Kid Friendly restaurants that offer special deals for families. 
The MilwaukeeMoms.com website has a great coupon for StoneFire Pizza Co. in New Berlin.  With the coupon, you get a $20 game card free with the purchase of the pizza buffet.  The coupon states that the offer is limited to one free game card per family, per visit. 
The StoneFire Pizza Co. website lists several promotions they have running throughout the week.  Each day is a different offer, however all of them involve some sort of discount on game cards.  The reason we mention this is because the daily offers are not valid with any other offer, so you may want to see what other deals are available before using the coupon for the free $20 game card (although the $20 game card seems to be the best deal). 
The MilwaukeeMoms.com coupon doesn't have an expiration date listed on it.  It is part of their Spring Break Specials discounts that they are running right now.  Without an expiration date listed, the offer could end without notice at any time.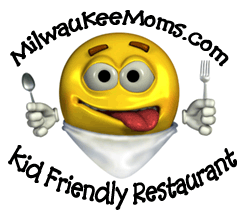 MilwaukeeMoms.com has compiled a list of kid friendly restaurants in the area that offer special deals for kids meals.  The full list is available here.  Some of the more notable deals are:
Applebee's – Kids meals for $0.99 on Wednesdays.
Crawdaddy's – Kids eat for free on Sundays.
Denny's – 2 free kids meals for every 1 adult meal purchased Tuesday – Saturday evenings.
IHOP – Kids eat free on Monday and Wednesday evenings.
Pizzeria Piccola – 2 free kids meals for every 1 adult meal purchased on Monday evenings.
The Chancery – Kids pay $0.01 per inch of height on Tuesdays.
All specials require 1 adult meal purchase per kid special, unless otherwise noted.