Check your Red Plum mailer from this week for a batch of Krispy Kreme coupons, incuding a coupon for a free Chocolate Peppermint Bark Doughnut!
The sole Krispy Kreme location in the Milwaukee area is located at 2900 South 108th St. ("Highway 100") in West Allis.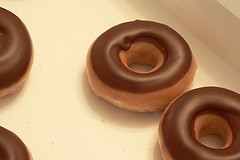 Today is National Donut Day, and Krispy Kreme and Dunkin' Donuts are giving away free donuts to celebrate.  Krispy Kreme's offer is a little better because it doesn't require a purchase.  At Dunkin' Donuts, you need to purchase a beverage in order to get the free donut. 
The only Milwaukee area Krispy Kreme is located on Hwy 100 in West Allis.  There are 4 Dunkin' Donuts locations in Southeastern Wisconsin.
Thanks to Milwaukee Consumer reader Lauren for the tip on this deal!
In celebration of the inauguration of Barack Obama on Tuesday, Krispy Kreme will be giving away free donuts.  There is no purchase necessary.  The only Milwaukee area Krispy Kreme is located at 2900 S. 108th Street in West Allis.  For additional details, read Kripy Kreme's press release.