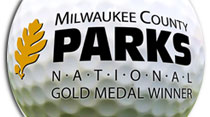 Milwaukee County Parks is offering a free round of golf at any of their Tournament, Championship or Regulation courses just for signing up for their email list.  Included is Brown Deer Golf Course, which has greens fees as high as $88.50!  Once you are on their list, you'll receive periodic notification of golf specials.
Believe it or not, several Milwaukee County Parks golf courses are already open for the season. This is pretty amazing considering we had snow on the ground less than a week ago!
After filling out the form on the County Parks Golf website, you'll be mailed a voucher for a free round of 9 or 18 holes at Brown Deer, Dretzka, Oakwood, Whitnall, Currie, Grant, Greenfield, or Lincoln Park golf courses. A golf cart rental is required to get the free round of golf, and there are restrictions on when the vouchers can be used. Check out the Milwaukee County Parks golf website for full information.