Today from 6am to 2pm, Denny's is running a special where you can get a free Grand Slamwich when you buy a Grand Slam breakfast.  The offer is good for dine-in only and is limited only to today, April 8th. 
According to the menu at Dennys.com, the Grand Slam breakfast ($5.99) is your choice of four of the following items:  two eggs, two sausage links, hashbrowns, buttermilk biscuit, two pancakes, two strips of bacon, two slices of toast, oatmeal, creamy grits, or an english muffin. 
The Grand Slamwich ($6.99) is a breakfast sandwich consisting of two scrambled eggs, sausage, bacon, shaved ham, mayonnaise, and American cheese grilled on potato bread with a maple spice spread.  It is also served with hash browns.  
Visit Denny's website and click on the restuarant locator to see which restuarant is closer to you. There are three Denny's in Milwaukee, and one in Waukesha, Wauwatosa, Pewaukee, and Racine.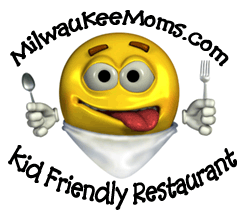 MilwaukeeMoms.com has compiled a list of kid friendly restaurants in the area that offer special deals for kids meals.  The full list is available here.  Some of the more notable deals are:
Applebee's – Kids meals for $0.99 on Wednesdays.
Crawdaddy's – Kids eat for free on Sundays.
Denny's – 2 free kids meals for every 1 adult meal purchased Tuesday – Saturday evenings.
IHOP – Kids eat free on Monday and Wednesday evenings.
Pizzeria Piccola – 2 free kids meals for every 1 adult meal purchased on Monday evenings.
The Chancery – Kids pay $0.01 per inch of height on Tuesdays.
All specials require 1 adult meal purchase per kid special, unless otherwise noted.