Sign up for the Cousins Subs email newsletter and get a coupon for a Buy One Get One Free Sub!  Visit the Cousins Subs website to sign up.  Once you fill out the registration form, you'll receive an email with your coupon.
The Cousins website says that email subscribers will receive information about "new menu items, upcoming events and promotions and of course, special, e-mail-only coupons and offers".  Sounds like a good deal to me! 🙂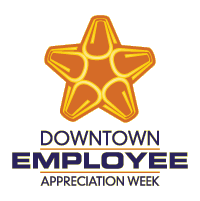 If you work in downtown Milwaukee, there are a lot of convenient and fun events available this week for you to enjoy as part of Downtown Employee Appreciation Week.
There are all sorts of games, challenges, giveaways, and employee discounts available.  For example, the daily schedule includes the following activities and giveaways taking place during lunchtime at Red Arrow Park:
Tuesday, July 26th – 11:45 AM – 1:15 PM

Office Challenge Games, Office Rock Star & Bucks Basketball Shootout
1,000 Streetza Pizza Sample Slices and Burke Chocolate Samples

Wednesday, July 27th – 11:45am to 1:15pm

Office Challenge Games, Office Rock Star, Bucks Basketball Shootout & YMCA Wellness Day
 1,000 Chip, Mango Salsa and Three Cheese Queso Samples from Qdoba; Pedometers and Guest Passes from the Downtown YMCA; and Bottles of Water from Milwaukee Downtown

Thursday, July 28th – 11:45am to 1:15pm

Office Challenge Games, Office Rock Star & Bucks Basketball Shootout
1,000 Sampler Sandwiches from Coffee Run; and Bottles of Hand Sanitizer from Johnson Controls

Friday, July 29th – 12:00 to 12:45pm

1,000 Mini Cousins Subs & Chips; Cups of Cedar Crest Ice Cream; and Oranges
Pocket Peelers is a coupon card that contains 32 mini peel-off coupons for buy one, get one free offers and special discounts.  Each card has a value over $200, yet costs only $10.  In our opinion, this is a great value for Milwaukee area consumers.   
Pocket Peelers are frequently purchased from fundraising operations of local organizations.  However, if you cannot find a group selling Pocket Peelers in your area, you can purchase them directly from Pocket Peelers for $10 per card.  If your order is for 19 cards or less, the proceeds are distributed to the non-profit organization of their choice.  If you order 20  or more cards, you can choose an organization to receive the proceeds and the group will receive a letter from Pocket Peelers with a check for $5 per card in your name!
There are currently four versions of the Pocket Peeler card: Four County (Milwaukee, Waukesha, Washington, and Ozaukee), Racine County, Kenosha County, and Dane County.  For details on the coupons for Racine, Kenosha, and Dane counties please visit the Pocket Peelers website.  The Four County card contains the following coupons:
Cousins Subs coupons (4) – Buy 2 subs, get 3rd sub free
Chancery coupons (2) – Buy 2 entrees, get an appetizer free
Pizzeria Uno coupon – Buy 2 entrees, get 3rd free
Rocky Rococo coupons (2) – Buy a regular slice, get same free
Rocky Rococo coupons (2) – Buy a super slice, get same free
Ace hardware coupon – $5 off $25 purchase
Ace hardware coupon – $10 off $50 purchase
IHOP coupon – Buy any entree and two beverages, get one entree free (up to $8)
Cold Stone Creamery coupon – Buy two Love It Signature Creations, get one free
Cold Stone Creamery coupon – 1 Free Kids Create-Your Own w/ Purchase of a Love It Signature Collection
Jose's coupon – Buy any 2 lunch entrees, get 1 free
Casio Interstate music coupon – 10% off total purchase, up to $50 discount per coupon
Wong's Wok coupon – Buy 1 Jr. Wok and medium soda, get same free
Wong's Wok coupon – Buy an Empress and medium soda, get same free
Scrub a dub car wash coupon – $19.99 oil change & free wash
Scrub a dub car wash coupon – $5.50  our best wash, under body flush, wax, and wheel brite
Dairy Queen coupon – Buy 1 Moolatte, get 1 free
Dairy Queen coupon – Buy a Grillburger and fry, get same free
Dairy Queen coupon – Buy a hot dog & medium drink, get a hot dog free
Dairy Queen coupon – $3.00 off a 8″ or larger cake
Subway coupons (4) – Buy any 6″ sub and 32 oz. drink, get 2nd sub of equal or lesser value free
AMF Bowling coupon – Buy 1 Game, get 1 free
Dunham's sports coupon – 10% off non-sale merchandise