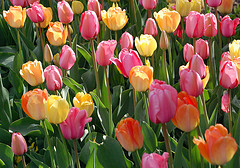 Where did you learn your frugal habits? For me, it was from my mom.  If your mom appreciates a good deal, make sure to take advantage of one of these special freebies for Mother's Day around Milwaukee.  If you have a frugal mom, she'll appreciate it even more!
Betty Brinn Children's Museum
Betty Brinn Children's Museum is offering free admission to moms this Sunday.  The Museum is open from noon until 5 p.m.  Admission for everyone else in your party is $7.50 ($6.50 for seniors, and free for kids ages one and younger). Children will have the opportunity to create a card and a paper flower bouquet for their mom.
Caribou Coffee
Buy One Get One Free coffee at Caribou Coffee on Mother's Day.  The fine print of this offer says you need to either print the offer or show it to them on your phone. 
Grand Geneva Golf
Moms will receive a free round of golf at Grand Geneva on Mother's Day with the purchase of a regular priced adult.  This special is valid all day on Sunday.
Milwaukee Public Museum
All moms will receive free general admission (with the purchase of a general admission) to the Milwaukee Public Museum on Mother's Day.  Moms will also receive free lunch in the Museum Cafe (with the purchase of an equal item) and a gift from Shady Lane Greenhouse.  See the Milwaukee Public Museum website for more details.
Milwaukee County Parks Golf Courses
Purchase a 9 or 18-hole round of golf and a single rider cart after 1:00 p.m. on Saturday or Sunday, and mom golfs and rides for free. This offer is available at Brown Deer, Currie, Dretzka, Grant, Greenfield, Hansen, Lincoln, Oakwood, Warnimont, and Whitnall golf courses. A coupon is required for this special, and can be found on the Milwaukee County Parks Golf Courses website.
Milwaukee County Zoo
All moms will receive free admission to the Milwaukee County Zoo on Mother's Day.  Non-moms that are Milwaukee County residents will receive $1.75 off  regular admission prices. The zoo is open from 9 a.m. until 4:30 p.m. on Sunday.  Check out the zoo website for more information on Mother's Day events.
Old World Wisconsin
Admission to Old World Wisconsin is free for moms on Mother's Day. Old World Wisconsin is open from 11 a.m. until 5 p.m. on Sunday.
Redbox
Rent a DVD from Redbox for free on Mother's Day.  Visit the Redbox Facebook page to send a free rental code to anyone. 
Do you know of any other Mother's Day promotions that we missed?  If so, please leave a comment so we can update our list!
Caribou Coffee offering a free cup of their coffee of the day on Earth Day, Sunday April 22.  Customers who bring in their own reusable coffee mug will get a free cup of coffee.  The maximum sized cup for this free offer is 24 ounces. 
Unfortunately, Starbucks is NOT offering their free Earth Day coffee this year.  According to tweets posted by Starbucks on Twitter, the free Earth Day coffee promotion will only be taking place in Canada this year. 
For details on the Caribou Coffee Earth Day offer, check out the Caribou Coffee website. 
Looking for Earth Day promotions in Milwaukee?  There are a few businesses in the area that are participating in giveaways for Earth Day. 
Did we miss any?  Leave a comment if you know of a Milwaukee area business offering Earth Day promotions!
Thanks to Bargain Briana for information on the Caribou Coffee promotion!