Milwaukee County Resident Discounts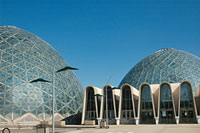 Most of the publicly funded attractions in Milwaukee offer free or discounted admission to County residents on certain days of the week.  We have compiled the following list of Milwaukee County Resident Discounts, as well as discounts for non-residents!
The Gardens, located within Whitnall Park in Hales Corners offer Milwaukee County residents ages 60 and older a $1 discount off the $5 admission.
Milwaukee County Golf Course Discount Card
The Milwaukee County Golf Course Discount Card can be purchased by Milwaukee County residents for $22.  Cardholders can save up to 50% each time the card is used at any Tournament through Executive course.  Non-residents can purchase a card too, but at a higher price.
County residents save $1.75 off admission at the Zoo every day.  On Wednesdays during the summer, the discount is $5.25 for adults and $4.75 for children ages 3 to 12.  The price of admission during the off-season is less, so the discount is less too.  See the Zoo's website for complete information.
Milwaukee County residents get in to the Museum for free on Mondays.
Mitchell Park Conservatory (The Domes)
The Domes are free for Milwaukee County residents between 9:00 a.m. and Noon on Mondays (excluding major holidays and celebrations of major holidays). County residents ages 60 and older save $1.50 off admission every day.
Non-Resident Discounts
The following Milwaukee attractions offer free admission for everyone – not just County residents!
U.S. Bank and Fox 6 sponsor Neighborhood Night at the Betty Brinn Children's Museum the third Thursday of every month.  Between 5:00 p.m. and 8:00 p.m. admission is free and there are usually special activities and events.
The first Thursday of each month is free to all visitors of the Milwaukee Art Museum courtesy of Target.
During the off-season, the Milwaukee County Zoo offers Family Free Days.  The free days are typically on the first Saturday of the month from November through April.  Admission is free, however parking fees still apply.
Comments