Kids on Spring Break? Take them to the Art Museum on Thursday for Free!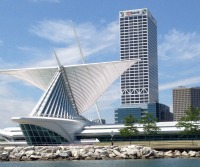 If you have children that are off of school this week, you'll be happy to hear that admission to the Milwaukee Art Museum is free on Thursday!
April 4 is the first Thursday of the month, which means that it is Target Free First Thursday at the Milwaukee Art Museum. All Art Museum visitors will receive free admission courtesy of Target Stores.
Target Free First Thursdays are open to individuals and families (but not groups). You do not need to be a Milwaukee County resident to take advantage of this promotion.
The Art Museum is open from 10 a.m. until 8 p.m. on Thursdays. Check out the Milwaukee Art Museum website for more information about Target Free First Thursdays.
Comments