Free Mother's Day Admission for Mom to the Milwaukee County Zoo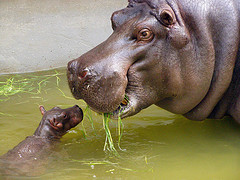 This Sunday, May 8th, all mothers will receive free admission to the Milwaukee County Zoo. The Zoo will be open from 9:00 a.m. until 4:30 p.m.  
At 11:00 a.m. and 1:00 p.m. the Zoo will present the documentary film, "Green" in the Peck Welcome Center Theater.  This 48-minute film focuses on the Indonesian rainforest, deforestation and orangutan extinction.  The orangutan focus is appropriate for Mother's Day considering the Zoo's most well-known mother is orangutan MJ.  MJ has raised her her surrogate son Mahal since 2008 in the Primates of the World Exhibit. 
Details of the Mother's Day event can be found on the Milwaukee County Zoo website.  
Comments