Better Business Bureau ShredFest on Saturday, October 20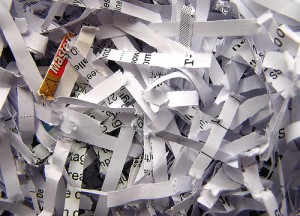 The Better Business Bureau is offering free paper shredding at ShredFest on Saturday, October 20 at AnchorBank in Franklin.  Visit AnchorBank between 8:30 – 11:00 a.m. and have up to three boxes of items shredded for free.  The AnchorBank in Franklin is located at 7745 W. Rawson Ave.
The Better Business Bureau reports that 8.3 million Americans were the victims of identity theft in 2011. Shredding documents helps minimize the chance of identity theft.
The BBB website contains suggestions on how long the following records should be retained before shredding them:
Canceled checks
Deposit, ATM, credit card and debit card receipts
Credit card and bank account statements
Credit card contracts and other loan agreements
Documentation of a purchase or sale of stocks, bonds and other investments
Paycheck Stubs
Utility or monthly bills
There are also ShredFest events in Madison and Appleton.  Visit the BBB Shredfest webpage for more information on other ShredFest events and to receive more advice on protecting yourself from identity thieves.
Comments