Sendik's 7 Ways to Save Deals are Back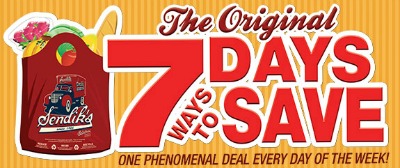 Balistreri owned Sendik's are back with the 7 Days, 7 Ways to Save promotion.  The deals start on Wednesday, February 6th.  The Sendik's weekly ad does not specify when the promotion ends but it typically lasts for several weeks.
Here are the specials offered:
Every Monday – Sendik's Black Forest Ham and Roasted Turkey Breast – $3.99/lb.
Every Tuesday – Sendik's Natural Ground Chuck Value Pack – $2.49/lb.
Every Wednesday – Turbana Bananas – $.19/lb.  and Fyffes Pineapples 2/$4
Every Thursday – Sendik's Milk Gallons ** Including Chocolate** – 2/$4
Every Friday – Wild Alaskan Cod Fillets – $3.99/lb. and Fresh Tilapia $4.99/lb.
Every Saturday – 1 lb. package Strawberries – 3/$5
Every Sunday – Pork Ribs Value Pack – $2.99/lb. and Boneless Pork Chops Value Pack – $1.99/lb. and Pork Shoulder Value Pack – $1.69/lb.
If you are headed to Sendik's to take advantage of the Sendik's 7 Ways to Save specials, keep in mind that Sendik's also publishes coupons on their website.  This weeks coupons, which you can get here, are:
$1.50 off Prilosec OTC (14 ct. tablets)
$1 off Select GM Cereals
$1 off Weight Watchers Frozen Treats
$.75 off Capri Sun (10 ct. varieties)
For more information on Sendik's, visit the Sendik's website.
Comments