Downtown Dining Week: June 6-13
Milwaukee's popular annual Downtown Dining Week returns this week!
The week-long promotion runs June 6-13 and features lunch and dinner specials at 42 different downtown Milwaukee restaurants.
For $10 at lunch and $20 (or $30) at dinner, diners are treated to a three-course meal featuring an appetizer, main course, and dessert.
This year's list includes several new participants (indicated in bold below).  To view the menu for each of the Downtown Dining Week restaurants, click the links below:
(the asterisk denotes restaurants that charge $30 for dinner)
My Downtown Dining Week Lunch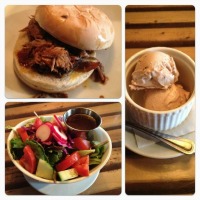 I try to visit a participating Downtown Dining Week restaurant every year.
Last year I had an incredible meal at Smoke Shack. My lunch included a salad, pulled pork sandwich, and the best (and only) whiskey ice cream I have ever had!
Have you been to Downtown Dining Week in the past?  What restaurants have you tried, and which ones to plan on trying this year? 
Leave a comment and let us know!
Comments