2012 George Webb Brewers 6 Burgers For $5 Promotion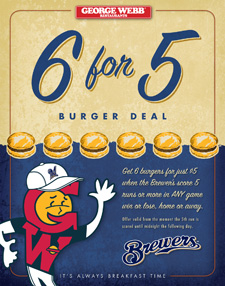 Today not only marks the start of the Milwaukee Brewers 2012 baseball season, but the start of another year of the 6 for $5 promotion at George Webb!  As most Brewers fans know, George Webb restaurants offers a great deal whenever the Brew Crew scores more than 5 runs in a game.  From the moment the 5th run is scored, Webb's offers 6 burgers for $5 through midnight the next day. 
This promotion is well known throughout the Milwaukee area, however there are some details that not everyone may be aware of: 
The offer is valid for all Brewers games –

home and away

The Brewers

don't need to win the game

, only score at least 5 runs
The special is valid for customers who eat in, or who carry out
If you chose to eat in a George Webb restaurant, you can split the 6 burgers with other people at your table
Cheeseburgers are available for a nominal extra charge
Fried onions and pickles are available for free 
Coupons are not necessary to take advantage of this deal
Webb's is also making their annual prediction that the Brewers will win 12 games in a row this season.  When this prediction came true in 1987, Webb's handed out 170,000 free burgers to celebrate!  You can read more fun information about the 1987 giveaway on the George Webb website. 
Comments