Special Offer – 2010 Entertainment Book $7 Off and Free Shipping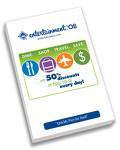 One of the most popular coupon books in the Milwaukee area, the Entertainment Book, can save you a lot of money on dining, entertainment, shopping, and more.  For a limited time, you can click here to receive a special offer: $7 off the 2010 Entertainment Book, plus FREE shipping, 11/9 thru 11/15 only! The retail price for the coupon book is $40, so your cost would be $33.  The Entertainment Book makes for a great holiday gift as well!
Some examples of valuable coupons in the 2010 Entertainment Book are:
2 for 1 lunch or dinner – up to $10 value at John Hawk's Pub
Buy one omelet, toast, hashbrowns, and coffee, get one free at George Webb
20% off total bill – up to $25 value at Rosie's Water Works
$10 off any purchase of $20 or more at Bucca di Beppo
$5 off $20 purchase at Fuddrucker's
20% off total bill up to $25 value at Casa Del Rio in Waukesha
Buy one, get one free admission to the Harley-Davidson Museum
Update:  Chris, one of our Facebook Fans, left a comment on Facebook for us sharing that when you buy one book for $33 including shipping, the Entertainment Book website will let you buy more books for $20.  Chris bought  3 Milwaukee books for $73, including shipping!
Comments