Entertainment Book Tax Day Sale: $10.40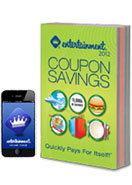 To celebrate the tax filing deadline, the 2012 Entertainment Book is on sale at the lowest price we've seen this year.  For a limited time, all Entertainment Books are only $10.40! This offer is available between April 16-18.  Shipping for each book is $2.49.
One of the most popular coupon books in the Milwaukee area, the Entertainment Book can save you a lot of money on dining, entertainment, shopping, and more.
There are hundreds of coupons in the book. Some examples of popular coupons in the 2012 Entertainment Book are:
Casual Dining – Molly Cool's Seafood Tavern, Bravo Cucina Italiana, The Lodge, John Hawks Pub, Rosie's Water Works
Family Dining – Sonic Drive-In, Dairy Queen, Toppers Pizza, Fazoli's, McDonald's, Subway, Cold Stone Creamery
Entertainment – Rosebud Cinema,  Six Flags Great America, Old World Wisconsin, Mitchell Park Domes, Wisconsin State Fair
Sports – Milwaukee Bucks, Milwaukee Wave, Milwaukee Admirals
Museums – Discovery World, Harley-Davidson Museum, Milwaukee Public Museum, Milwaukee Art Museum
This sale is valid on all copies of the 2012 Entertainment Book, including the books for other cities. If you're planning a trip in 2012 a good way to save money is to pick up the Entertainment Book for the city in which you're traveling to.
Comments