Entertainment Books as low as $15 – Lowest Price of the Holiday Season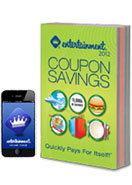 The 2012 Entertainment Book is on sale for its lowest price of the holiday season.  For a limited time, all Entertainment Books are only $19.99 with Free Shipping! Plus order additional Books for ONLY $15.
This offer is available until December 18th.
We have been advising our readers to wait until this sale to buy their books.  Every year Entertainment has lowered their prices in the weeks before Christmas.  If you have been waiting, now is the time to buy!
One of the most popular coupon books in the Milwaukee area, the Entertainment Book can save you a lot of money on dining, entertainment, shopping, and more. The Entertainment Book also makes for a great holiday gift.
There are hundreds of coupons in the book. Some examples of popular coupons in the 2012 Entertainment Book are:
Casual Dining – Molly Cool's Seafood Tavern, Bravo Cucina Italiana, The Lodge, John Hawks Pub, Rosie's Water Works
Family Dining – Sonic Drive-In, Dairy Queen, Toppers Pizza, Fazoli's, McDonald's, Subway, Cold Stone Creamery
Entertainment – Rosebud Cinema,  Six Flags Great America, Old World Wisconsin, Mitchell Park Domes, Wisconsin State Fair
Sports – Milwaukee Bucks, Milwaukee Wave, Milwaukee Admirals
Museums – Discovery World, Harley-Davidson Museum, Milwaukee Public Museum, Milwaukee Art Museum
This sale is valid on all copies of the 2012 Entertainment Book, including the books for other cities. If you're planning a trip in 2012 a good way to save money is to pick up the Entertainment Book for the city in which you're traveling to.
Comments