Welcome to Milwaukee Consumer's 24 Days of Holiday Giveaways!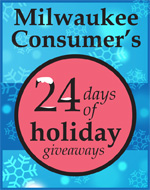 2010 has been a year of exceptional growth for Milwaukee Consumer. Every day, we reach thousands of Milwaukee area residents with information about deals and promotions in our area.
To thank our loyal readers, we have lined up 24 days of giveaways for products, services and events from several great Milwaukee area businesses.
Every day between December 1st and Christmas Eve we will have a new prize and select a new winner.
Visit this page daily to sign up for the giveaway of the day.
Thank you to all who participated in our 24 Days of Holiday Giveaways!
If you are already an email subscriber, you can click on this link to be taken to the entry form for email subscribers.
Winners List
12/1 – Milwaukee Cupcake Company – Renee B.
12/2 – Monty Python's Spamalot – Donna W.
12/3 – Toppers Pizza – James G. & Megan K.
12/4 – Milwaukee/NARI Home Improvement Show – Deb T.
12/5 – Restaurant.com – John H.
12/6 – Discovery World – Mary P. & Janet B.
12/7 – George Webb – Colleen B.
12/8 – Harley-Davidson Museum – Lori H.
12/9 – Karma Spa – Tammy W.
12/10 – Stir Crazy/Flat Top Grill – Tina G.
12/11 – Mike LaSusa's Italian Restaurant – Adam C.
12/12 – Hotch-A-Do – Karina S.
12/13 – Flabbergast – Michele H.
12/14 – Entertainment Book – Phyllis S.
12/15 – Amazon.com – Chris K.
12/16 – The Polar Express IMAX Experience – Samantha C.
12/17 – Qdoba – Jenny K. & Gina Z.
12/18 – The Milwaukee Ballet's The Nutcracker – Heather L.
12/19 – Country Christmas at Country Springs Hotel – Oksana S. & Julia I.
12/20 – Milwaukee Wave – Ann J.
12/21 – Simma's Bakery – Laura C.
12/22 – The Springs Water Park at Country Springs Hotel – Tammie M.
12/23 – Woodman's Markets – Lois M.
12/24 – Fast Track Oil Change Centers – Melanie B., Jennifer Y., Christine L., Brendan C., Amy S., Rosemarie S., Keith T., Vickie O., Tim R. & Kimberly B.

Contest Rules: Visitors to Milwaukee Consumer may enter one time a day to win that day's prize. Entry period begins at 12:00 A.M. and ends at 11:59 P.M. CST each day. Contest winners will be contacted via email with instructions on how to claim their prize. Contest winner has 48 hours to respond to the notification email. If contest winner does not respond to the notification email, a new winner will be selected. By entering the giveaway, you will also be added to the Milwaukee Consumer email list to be kept in the loop of all of the great deals in our area (don't worry…we don't share email addresses with anyone, and you can unsubscribe at any time). If you're already signed up for our email list, you can still enter the giveaway by filling out the form above. A list of winners will be shown on this page. No purchase necessary. Contest is open to residents of the state of Wisconsin only.
Thank you for reading Milwaukee Consumer!
Comments